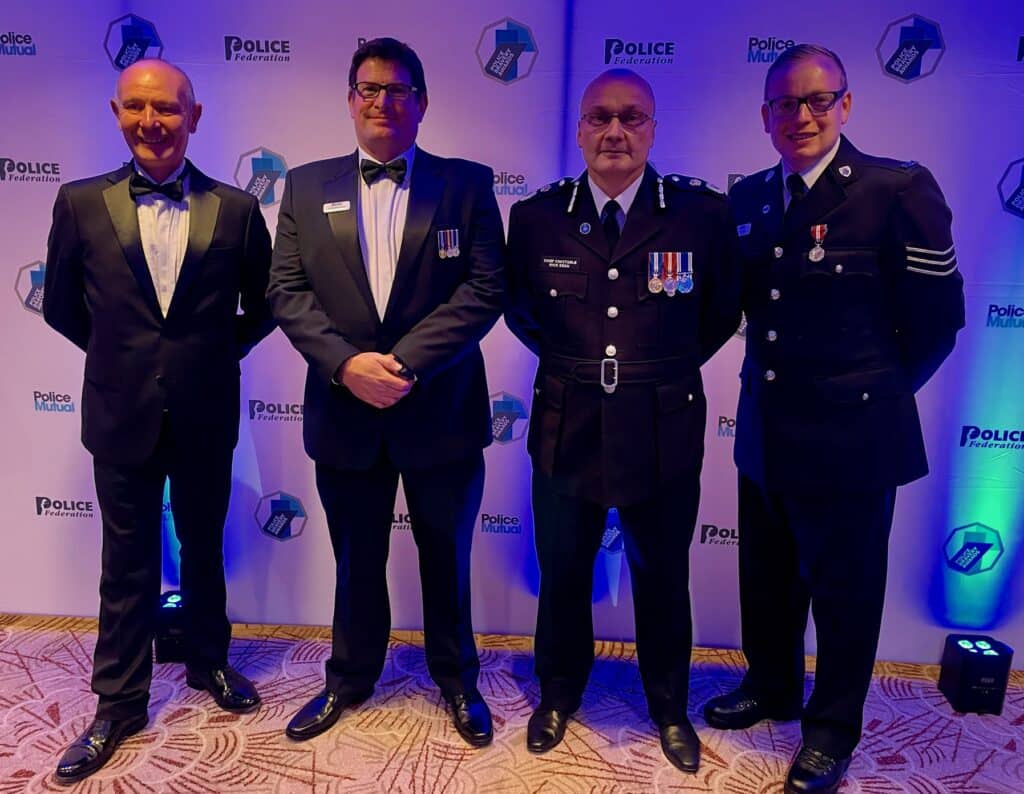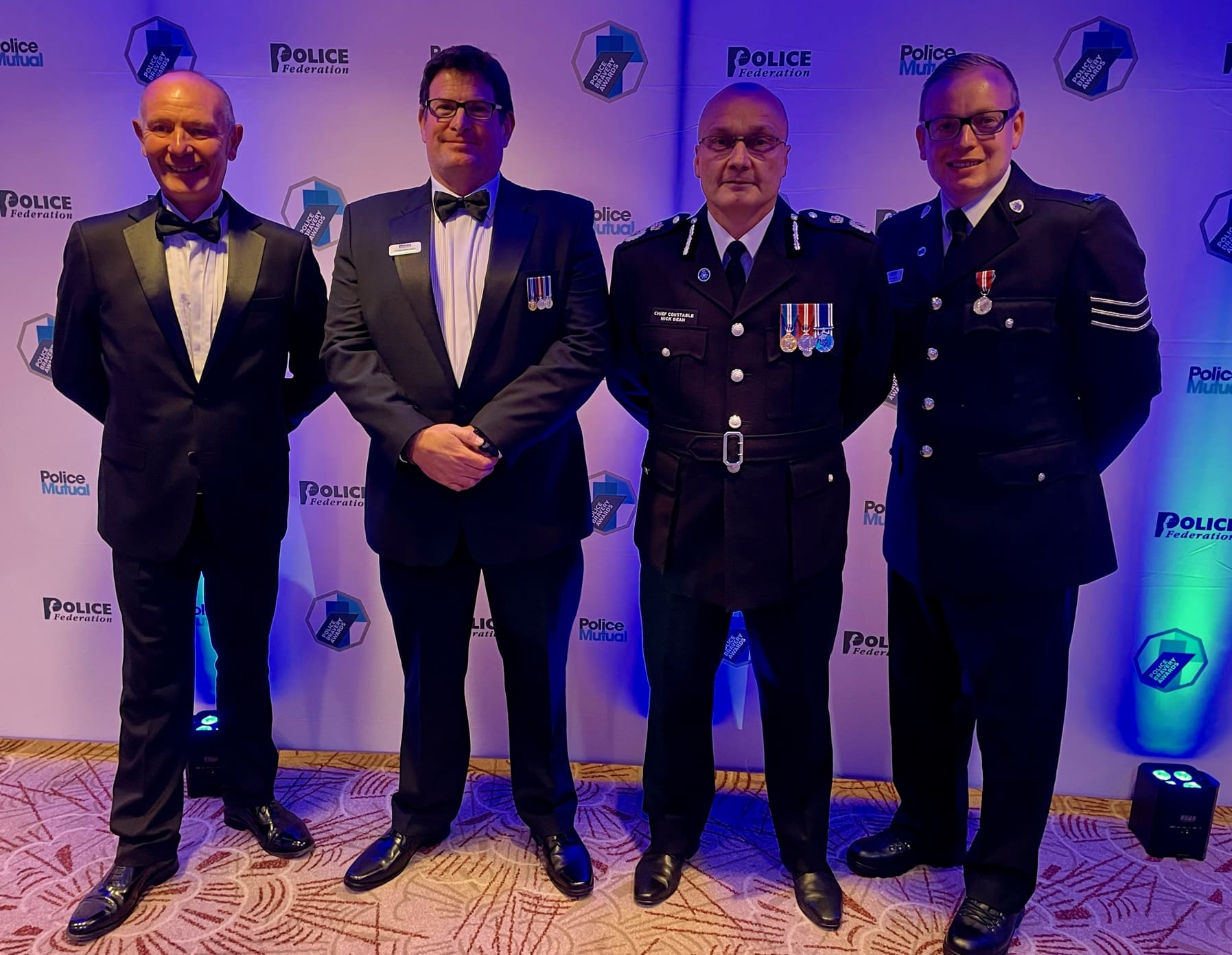 Two Cambridgeshire police officers who tackled a man armed with a hammer and what appeared to be a gun have had their courage recognised at the Police Federation's annual national Police Bravery Awards.
The ceremony, held at a London hotel on Tuesday (12 October), saw the bravery of Sergeants Nick Ashton-Jones and Dan Bramley celebrated alongside 91 other nominees from 42 forces across England and Wales.
Earlier the officers, along with their partners, Alison Ashton-Jones and Zoe Patten, were welcomed to a Downing Street reception hosted by the Home Secretary, Priti Patel.
They were nominated after rushing towards danger to tackle a man, who had a hammer in one hand and a firearm tucked into his belt, and was smashing up vehicles parked at Cambridge's Parkside Police Station.
He was attacking police cars with a hammer in one hand and a firearm tucked into his belt. It later turned out to be an imitation weapon.
Their Federation chair, Liz Groom, said: "They bravely ran towards danger, risking serious injury or even worse at the hands of this man. At this time, they were unaware that the firearm he was carrying was an imitation."
On seeing the officers approaching, the man swapped the hammer into his other hand and went to pull the firearm from his waistband, but lost his grip and dropped it.
PS Bramley, who had 15 years' service with the Force, at the time, approached the man who then threw away the hammer. He tackled the man to the ground and was helped by PS Ashton-Jones, who had 30 years' service and has since retired.
The man was released without charge and sectioned under the Mental Health Act.
Six marked police cars were damaged in the incident.
The 2020 Police Bravery Awards, sponsored by Police Mutual, honour some of the finest officers in England and Wales who have performed acts of bravery, while on or off duty. The ceremony had been postponed due to the pandemic.
Cambridgeshire falls into Region 4 for the awards, and the regional winner was PC Geoff Marshall who helped to prevent a dam at Toddbrook Reservoir from collapsing and overwhelming the town of Whaley Bridge below.
The overall national winner was PC Stuart Outten from the Metropolitan Police. He suffered multiple stab wounds and skull fractures, but managed to use his Taser to disable an attacker who was armed with a machete. In the horrific attack, he suffered six deep wounds to his head, skull fractures, and two wounds to his arm and multiple finger fractures.
John Apter, national chair of the Police Federation of England and Wales, said: "We have the finest police officers in the world – dedicated public servants who, without hesitation, put themselves in danger to protect others.
"They are humble, professional and committed individuals who I am proud to call my colleagues. Police officers are everyday heroes who are anything but ordinary. My congratulations go to Pc Outten and all the Police Bravery Awards nominees. They deserve every bit of recognition they receive."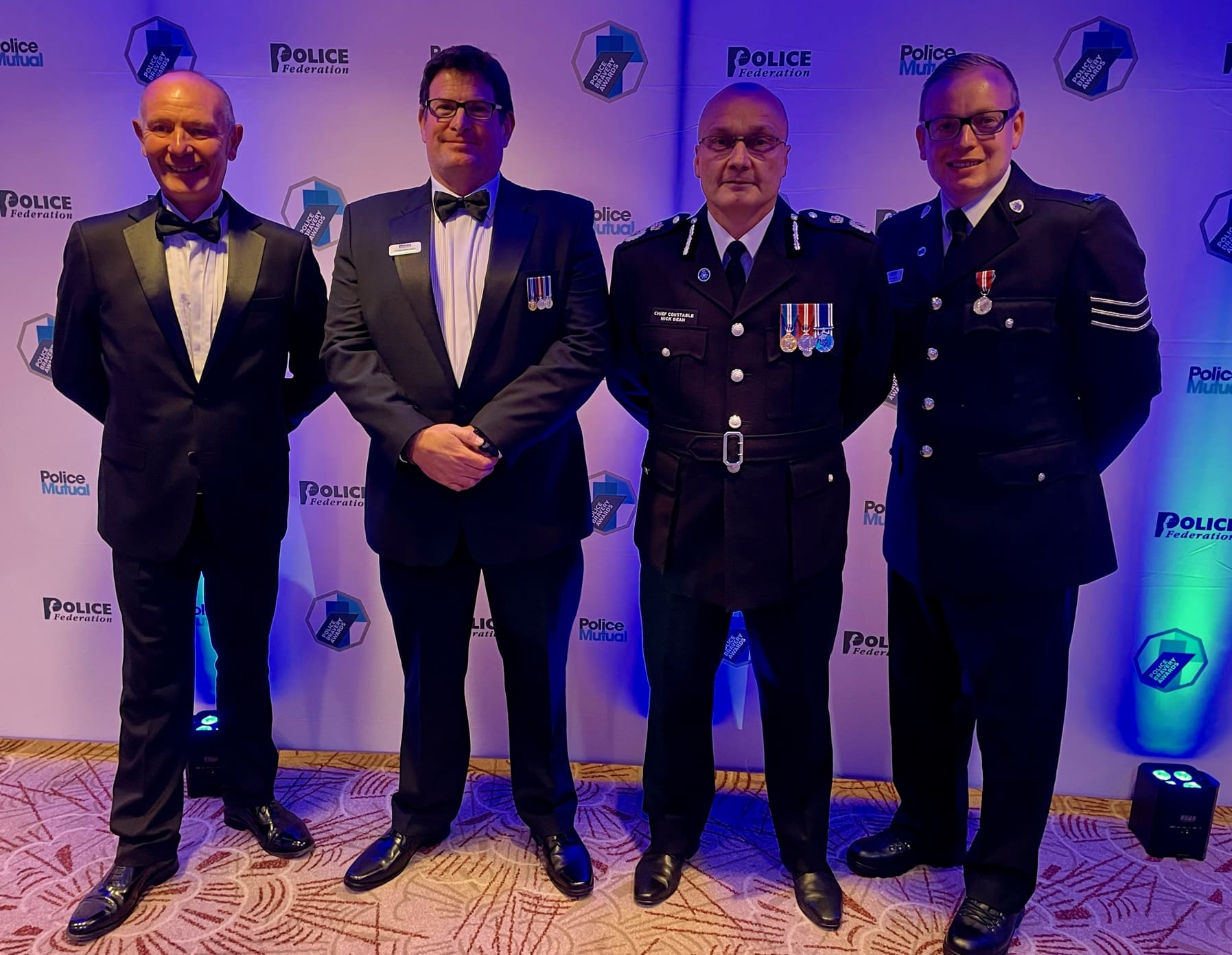 At the awards ceremony are (left to right) Cambridgeshire Police and Crime Commissioner Darryl Preston, Nick Ashton-Jones (now retired) Chief Constable Nick Dean and PS Dan Bramley.