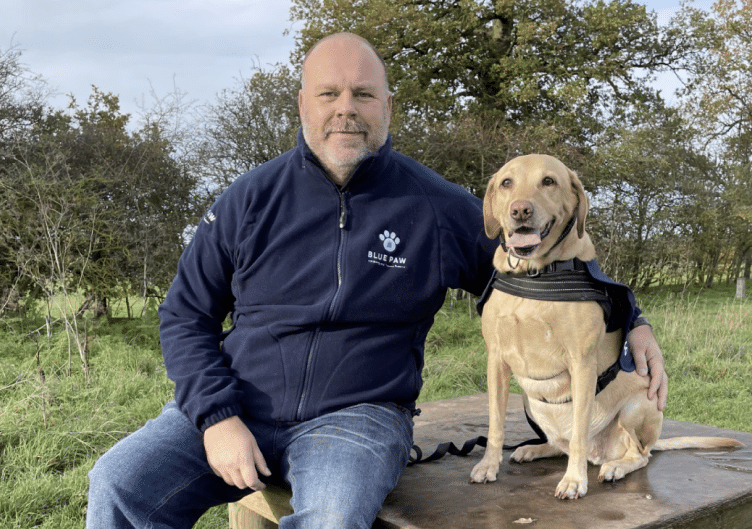 A Cambridgeshire Police Federation member who credits his dog Holly for helping him combat Post Traumatic Stress Disorder (PTSD) is now launching his own company to support others.
Retiring officer Paul Roe is just days away from his last shift and currently preparing for life outside the Force, which will see him and his four-legged sidekick Holly travelling up and down the country providing wellbeing support to others.
Of course, helping others is nothing new for this duo – in fact, Holly was the first handler-owned pooch to officially be given an OK9 badge as part of the Oscar Kilo Wellbeing and Trauma Support Dogs Project. More recently, the pair were named among ambassadors for Flint House Rehabilitation Centre.
"If somebody had said to me 10 years ago that I'd be working with a fluffy dog and talking to people about their mental health, I wouldn't have believed them," said 49-year-old Paul, who set up his business 'Blue Paw' in January, in preparation for his retirement.
"I think what makes Blue Paw different is I've been there, I've been diagnosed with PTSD, I know what these people are going through. I like to think my own experiences help others."
Paul unknowingly lived with PTSD for years. In 1998 he was nearly stabbed while working the New Year shift and despite finding it difficult to celebrate New Year, he never realised PTSD was the root cause.
His wellbeing was then further impacted after he was called to four serious train collisions in succession in a short space of time.
For years he masked how he was feeling – that was until he dislocated his ankle. His mental health changed dramatically and having been dragged to the doctor by his wife, Paul was diagnosed with PTSD.
"With the support from my wife, family and Holly, I managed to come through some of my darkest days living with PTSD. It was strange, after I was diagnosed Holly seemed to instantly pick up on how I was feeling," recalled Paul, who has owned the eight-year-old Labrador since she was 12 weeks old.
"She would sit at my feet or with her head on my knee. We developed this unbreakable bond."
Three years ago, Holly underwent training to become an official wellbeing dog, which led to the duo visiting officers and staff, as well as victims, to provide essential mental health support.
"I am so passionate about using dogs to help others," explained Paul, who is currently undergoing further mental health training so he and Holly can provide the best service possible.
"Why? Because it works. It really does. Having a dog around to pat, stroke, get on the floor and play with, or take for a walk, that gets people talking, that helps people to open up.
"During the COVID-19 pandemic, Holly and I were asked to help out at a local hospital. We visited the A&E there and when we saw a nurse, she burst into tears. She started talking about her mental health and we got talking about how the pandemic had impacted her. I saw that nurse a few months later and she told me that if me and Holly hadn't visited them that day, things would have been different. She told me that talking to us had saved her life. We were there, in the right place, at the right time.
"I hear so many similar stories to that. And that is why Holly and I do what we do."
Blue Paw has already been inundated with requests, with Paul and Holly already working with the likes of British Transport Police and Flint House, as well as other Forces and private companies across the country.
"It's nice dipping my toe outside of the policing world as I take on this new adventure while still supporting colleagues within the policing environment when they need me to," added Paul, who will also remain an Oscar Kilo dog handler following his retirement.
"I'd love this to take off and have Blue Paw dogs in each region. But for now, we're taking each day as it comes, as I look forward to beginning my next adventure with Holly."
Blue Paw is raising money for Flint House – a charity that provides physical rehabilitation and mental health support to both serving and retired police officers – via the sale of pin badges. You can buy a pin badge by visiting Blue Paw's website.