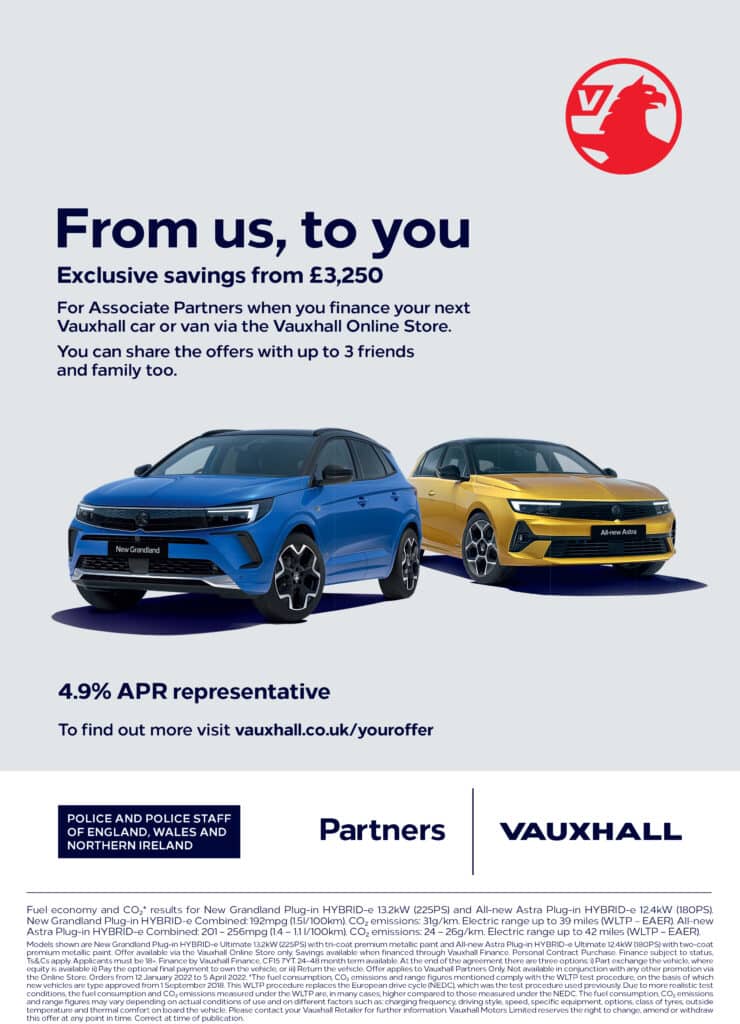 Vauxhall is pleased to offer Cambridgeshire Police Federation employees and members exclusive discounts. Exclusive Partners allowances when you finance a Vauxhall car or van via the Vauxhall Online Store. Visit www.vauxhall.co.uk/youroffer to find out more.
Get the new Grandland Plug-in HYBRID-e featuring a powerful mix of direct injection petrol and electric power, plus the All-New Astra Plug-in HYBRID-e, with 43-mile full-electric range, iBooster energy recovery and smart hybrid tech. Enjoy offer until 5 April 2022. 
What do you receive as an Associate Partner?
·  Up to £3,750 total discount: (New Grandland Plug-in HYBRID-e 13.2kW 225PS)
·  Nominate Don't just keep these great savings to yourself – Associate Partners are entitled to share them with up to three friends or family members. So it could be the perfect way for you or your loved ones to start the new year in a brand new Vauxhall. Login to your Partners account to nominate
·  A seamless purchase journey through the Vauxhall Online Store
These discounts are exclusively available through the Vauxhall Online Store with a Vauxhall Finance Personal Contract Purchase (PCP) agreement. On www.vauxhallpartners.co.uk, it now shows you just how simple it is to:
·  Register as a Vauxhall Associate Partner
·  Claim your exclusive discount
·  Nominate friends and family to benefit from the same Partners discounts too