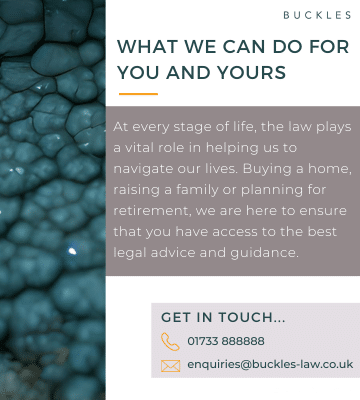 What we can do for you and yours
At every stage of life, the law plays a vital role in helping us to navigate our lives. From buying anew home, raising a family, or planning retirement, we are here to ensure you have the best legal advice and guidance.
The team have a wealth of experience and can provide you with the support you need to confidently make important decisions.
Family – We have a wealth of knowledge and experience dealing with divorce, financial arrangements, including pension claims and all aspects of children's work. We understand every family situation is different, understanding your priorities is crucial in getting the right solutions.
We have a number of trained family mediators who will work with you to achieve constructive, cost-effective solutions and peace of mind.
Get in touch for a free 30-minute consultation.
Residential Property – Whether you're buying or selling a property we understand how important it is that you have confidence in your legal provider. We know the process can often be complex and confusing, but we will make sure the legal aspects of your transaction are dealt with as smoothly as possible. We will explain the steps involved and communicate clearly on any concerns you may have.
Lifetime planning – As a forward-thinking firm, we are always looking to the future. Making preparations for your estate and looking after future generations of your family involve important legal decisions.
Our team include specialists in drafting Wills and Lasting Powers of Attorney, Court of Protection issues, estate planning and administration, care home fees and wealth preservation.
We're here to listen and advise, your needs and goals are our focus, relationships are built on trust. Contact us today for a no obligation appointment.
Whatever your legal needs please get in touch, we believe in putting our clients, and the services we provide, at the heart of everything we do.
Contact us now, by emailing enquiries@buckles-law.co.uk or calling us on 01733 888888