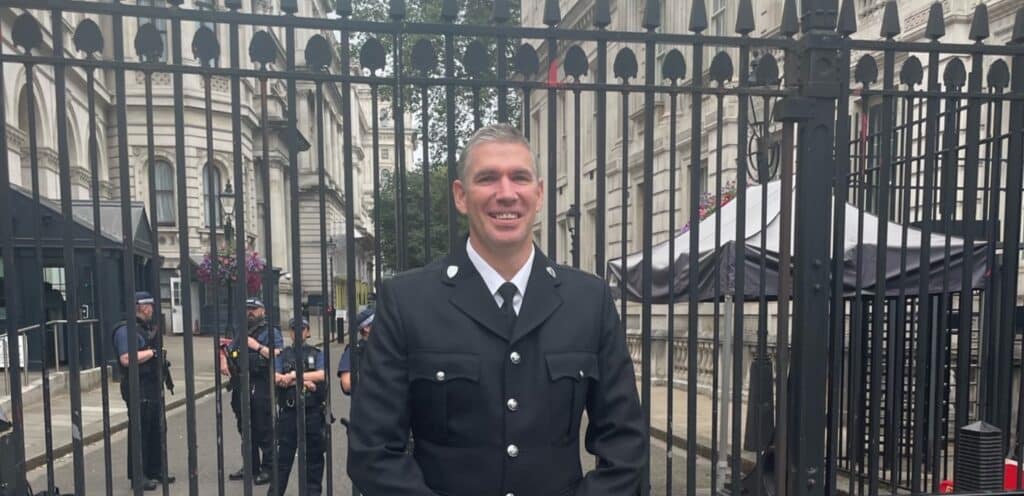 Two Cambridgeshire detectives were honoured at the Police Bravery Awards in London yesterday after risking their lives saving a woman from a burning car.
Detective Constables Lily Deacon and Craig Trevor were recognised for dragging a woman to safety, just seconds before the vehicle 'went up in flames'.
As part of the annual bravery awards, they joined nominees from forces across England and Wales at a Downing Street reception hosted by Home Secretary Suella Braverman ahead of the awards ceremony.
DC Deacon attended the event with her partner Harry Pryor while DC Trevor was joined by his wife Laura and the couples were joined by Cambridgeshire Police Federation chair Liz Groom and Chief Constable Nick Dean at the evening awards.
"The Police Bravery Awards, which are hosted each year by the Police Federation, are the highlight of the policing year and I am always incredibly proud to join our nominees at this event,""" says Liz.
"While Lily and Trevor did not pick up an award, they were incredibly deserving nominees and I am pleased their actions were recognised at a national level.
"Each and every day, police officers across England and Wales are carrying out acts of bravery which all too often go unrecognised. It was really moving to hear the accounts of all the nominees' actions but, despite them all putting their lives on the line while serving their communities, time and time again they said they were just doing their jobs."
Speaking about the incident ahead of the awards, Craig explained that after realising the woman was trapped in her vehicle, the quick-thinking duo forced the car's door frame open, with just moments to spare.
"Myself and Lily were driving an unmarked car, when all of a sudden, we saw a vehicle heading toward us, head on, at what must've been around 80mph," said 41-year-old Craig, who's been in the Force for 15 years.
"We both thought we were going to die, because this car was moving in our lane, so fast towards us. But then, at the last minute, it quickly swerved, missing us by a few feet."
Craig recalls how the vehicle flipped, before 'heading into a ditch'.
"We stopped our car as fast as they could, before beginning our search to locate the vehicle," he continued.
"Lily was on the main road, and I took to the field. Lily soon called me, she said that she could see the flipped car, it was on its side and there was smoke coming out of the vehicle."
As the pair raced towards the vehicle, Craig simultaneously called the fire service, and for back-up.
"When we got to the car, we realised there was a female trapped inside and there was black smoke coming out of the bonnet,""" Craig explained.
"The car was locked, so I got my baton out to smash the window screen. However, the woman inside managed to unlock her door, but was still trapped inside, as a result of how the metal frame had bent."
In a race against time, Craig and Lily managed to bend the metal frame of the car and help the woman out.
"I think at that moment, the sheer adrenaline gave us the strength we needed to bend the car frame," said Craig, who revealed how just moments after rescuing the woman, 'the whole car went up in flames'.
The pair of officers managed to pull the woman to safety, before blocking the road off, so no other vehicles could pass. The fire service and ambulance arrived shortly after.
The driver provided a positive breath test in the ambulance. She was sentenced to a 16-month driving ban, which was reduced to 16 weeks, and fined £120, with £105 court costs.
"Both Lily and I were very surprised to have been nominated," Craig said, "To be honest, it was just another day at work. We just happened to be in the right place, at the right time.
"Of course, it's always nice to be recognised in a positive way."
Lily and Craig were was nominated for the Region 4 award which was won by Nottinghamshire officers Sergeant Dan Griffin and PC Amy Pannell. Dan was stabbed multiple times after challenging two men acting suspiciously and Amy, who was a student officer at the time, was praised for her quick-thinking in helping detain the attacker and stem the blood from Dan's wounds.
The overall winners were a team of West Midlands officers who formed a human chain to try to save four boys who had fallen through a frozen lake.
Further coverage of the Police Bravery Awards will be featured in the next edition of our Frontline magazine.