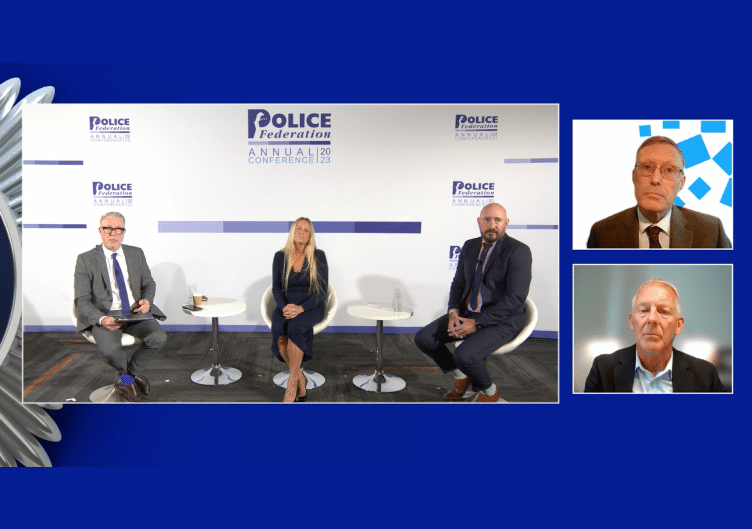 Cambridgeshire Police Federation chair Liz Groom says the lack of time afforded members to debrief after a traumatic incident was impacting on their welfare.
Liz said the closure of canteens, a lack of rest time and the chance to talk to colleagues was taking its toll on officers.
She was contributing to a session at the Police Federation of England and Wales (PFEW) annual conference on police wellbeing.
"Officers need access to food, canteens, time to rest and debrief traumatic incidents. "They're simply not afforded the time to even debrief or talk to each other," said Liz, via the interactive question tool, which gives viewers watching the virtual conference the opportunity to engage with the session.
She added: "Forces have cut things that help improve welfare like access to canteens.
"Do the panel agree we need specific and significant ring-fenced funding for welfare?"
Sue Honeywill, the PFEW's joint wellbeing lead, who was part of the panel, agreed a lack of facilities such as canteens in which officers could debrief was an issue.
She added: "Officers are routinely going from one incident to another incident, so there isn't even that opportunity to debrief. We need to make that time.
"This is where executive and senior managers need to ensure that officers are given time to take their lunch break.
"There absolutely should be facilities within the stations to allow that to happen.
"It's something we're looking at as a Federation, and it needs that financial investment.
"We need to look at how officers do debrief but, more importantly, giving them the time to be able to debrief."
Professor John Harrison, the chief medical officer, was also part of the panel.
He said "it's not rocket science" that officers need time to debrief after an incident.
"People at different levels all agree with this, the challenge is how we put it into practice and reverse some of the changes that have taken place over the past 10 to 20 years," he added.
Earlier in the discussion, Paul Williams, the National Federation's joint wellbeing lead, urged Home Secretary Suella Braverman to "invest with meaning" in officers' health and wellbeing as he spelt out the challenges they face.
Paul told the conference that 344 officers took their own lives between 2001 and 2020 – more than one per month.
"The number is rising, the issue is serious and real and the wellbeing of our cops needs real time and real investment," he said.
Paul told conference there have been more than 40,000 assaults on police officers in the past year, with more than 11,000 resulting in physical injury.
"Our officers face this on a daily basis throughout their career," he said. "There's still that assumption by many it's part of being a cop and we shouldn't expect anything else. It's wrong. It can't be an acceptable culture."
He said that attacks on officers along with attending traumatic incidents, heavy workloads, increased bureaucracy, intense scrutiny and trial by social media were having an impact on officers.
"If I could appeal to the Home Secretary for anything at this conference it would be to invest with meaning in looking after those who look after the public," he said.
"If it's expected that policing means running towards danger, taking physical and verbal abuse and enormous trauma exposure then at least take officers from the bottom of the pile and provide appropriate and meaningful welfare support with an insistence on mandatory framework of support for forces."
Sue told conference that 40 per cent of incidents attended by police officers were mental health-related,
Speaking during a session titled Workforce under pressure – a true picture of police wellbeing, Sue called on forces to do more to protect officers' rights and conditions.
She said: "There are many elements that impact on police wellbeing.
"An inexperienced frontline, the burden of extremely heavy workloads, attending distressing incidents on a regular basis, student officers having to learn a complex profession alongside significant academic programmes, investigations played out by social media, shift patterns, cancelling of rest days, lack of annual leave.
"We must challenge chiefs to do more to protect the rights and working conditions of our officers.
"More importantly, divert work to the most suitable agencies and support the hard-working and decent officers who serve and protect our nation.
"With officer numbers proportionately at an all-time low, officers' morale at its lowest and their workloads at their greatest, it can be no surprise we're witnessing extremely high levels of officers signed off for mental ill-health-related reasons.
"We fear these figures will stay high or grow in number."
Andy Rhodes, director of Oscar Kilo, the National Police Wellbeing Service, talked about how the police wellbeing agenda had evolved over the past decade or so.
"There's one big message, it's not always the nature of the work itself that is making our people ill," he said.
"The way we run our organisations, and some of the issues such as doing work we shouldn't necessarily be doing, that doesn't give us meaning and purpose, is damaging to our mental health and wellbeing.
"Workloads, resources, toxic cultures, poor leadership, poorly delivered technology.
"We call them organisational stressors, hindrance stressors. We have independent research now that says they are primarily driving the vast proportion of negative indicators on our wellbeing service.
"This ranges from intention to quit to psychological detachment, fatigue, feeling supported."
He said that every police force realised the importance of health and wellbeing.
"A lot are committed to getting better and our job is to share that good practice and to give them the tools, guidance and support to be world-class at this because this is what our people deserve," he said.
Professor John Harrison, the chief medical officer, said the 43 Home Office-associated police forces had their own occupational health services which worked "in relative isolation", suggesting it was like a "postcode lottery".
John said: "Policing is a £17billion service. How much money do we actually spend on wellbeing?
"If we spent one per cent of that budget, we're talking about something like £170 million.
"Do we spend £170 million on wellbeing, for something which for most forces is the top three priorities?
"My belief is we probably don't."
John added that a lack of funding and resources was only part of the problem.
"I think there's a collective lack of belief, imagination and commitment," he said.
"A lack of belief in the importance of wellbeing and the benefits of it. A lack of imagination in terms of what good looks like – we have to take a holistic view. And a lack of commitment to change."