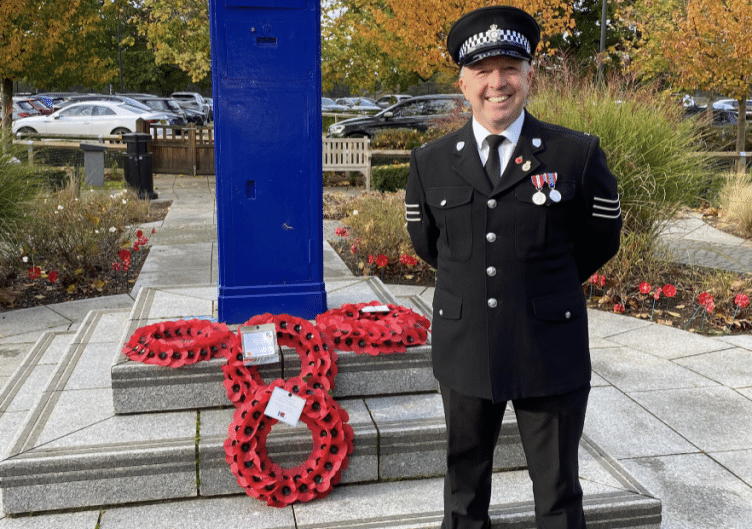 Cambridgeshire Police Federation secretary Scott Houghton says it was a proud moment for him to represent members by laying a wreath at the Force's Remembrance Service.
Scott described it as a poignant moment as he remembered the sacrifice of servicemen and women, including his own family members.
"It's quite poignant for me to be able to play the wreath," he said.
"I distinctively remember as a young boy going for years to our local war memorial in Arlesey in Bedfordshire for the Remembrance Sunday.
"My nan always used to lay a wreath and a poppy in memory of her brother and my great uncle, Kenneth Jordan, who lost his life serving on HMS Hood, which was sunk by the Bismarck during the battle of the Denmark Straight in May 1941."
Cambridgeshire Police traditionally holds it service on the last Friday before Remembrance Sunday.
It was held at Force headquarters and was led by Reverend Lynda Taylor, the Force chaplain, with words from the Chief Constable, Nick Dean.
A total of four wreaths were laid, one by Chief Constable Dean, one by Darryl Preston, the Police and Crime Commissioner, one on behalf of the UNISON branch, and the one laid by Scott on behalf of the Federation branch.
Scott said: "I'm extremely proud to serve King – and the Queen before him – and country.
"I feel immensely proud when I'm laying that wreath and representing the Police Federation and our members.
"I am sure lots of our members will have their own history and their own stories of grandparents, great grandparents, and family members who may have been killed during the two world wars and in service in other wars and conflicts.
"There will be a lot of history within serving officers, and it makes it all the more moving and emotional.
"We will remember them," he added.