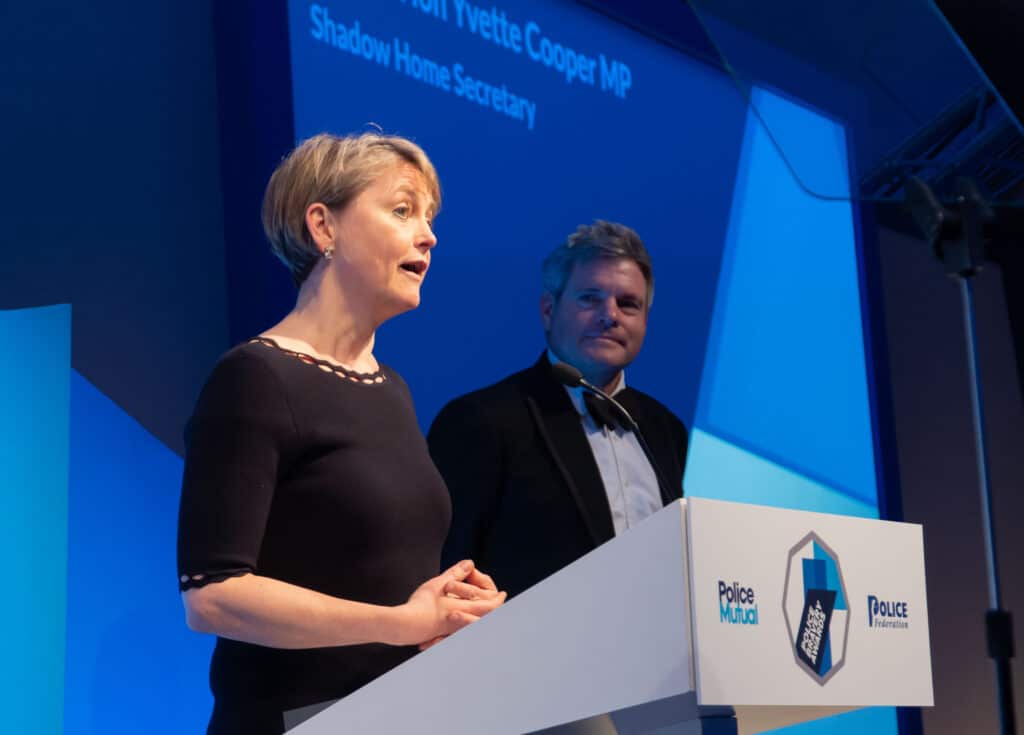 Cambridgeshire Police Federation chair Liz Groom has welcomed Labour's proposals to boost local police patrols if it wins the next General Election.
Shadow Home Secretary Yvette Cooper unveiled her party's "neighbourhood policing guarantee" with a pledge to recruit 13,000 new neighbourhood officers.
In a keynote speech at the Institute for Government think tank, she said Labour would put an extra 13,000 neighbourhood police officers and PCSOs back on the streets, "paid for with £360m delivered from our shared procurement plan".
But Liz said funding for the proposals must come from central sources as she urged Ms Cooper to overhaul police funding if Labour come to power.
Liz said: "We welcome Ms Cooper's vision of putting police officers back into the heart of our communities.
"Bobbies on the beat are a visible reassurance to people and act as a deterrent to the anti-social behaviour that blights so many people's lives.
"They build trust and relationships that can lead to a flow of information and intelligence around other issues and crimes.
"However, the devil will be in the detail and we'll be looking to see how Labour intends to fund the plans.
"It needs to come from central Government, we can't keep going to local taxpayers when the cost of living crisis means many people can't afford the everyday essentials let alone a rise in their council tax.
"And we need a reform of police funding. We need a proper long-term funding mechanism that allows police forces to plan ahead, to secure better procurement deals and drive overall costs down.
"And it will allow us to make long-term strategic plans to respond to the changing nature of crime and support communities."
Ms Cooper said her plan would see patrols restored back to town centres, and would ensure "communities and residents know who to turn to when things go wrong, with new statutory responsibilities on forces to protect and deliver neighbourhood policing".
She said: "Drawing on the traditional core of British policing – the bobby on the beat – but modernised for a new age, equipped with new training and technology so they can use data to target hotspots, react quickly and build partnerships to solve problems."
In what was a deliberate echo of Mr Blair's 1993 conference speech, as shadow home secretary, Ms Cooper added: "Thirty years ago this year Labour shadow home secretary Tony Blair said our party would be 'tough on crime, tough on the causes of crime'.
"It was right then, it's right now. It's what we did then, it's what we'll do again.
"Over 13 years the Conservatives have let communities down. Only Labour is the party of law and order now."
The plan for extra neighbourhood police officers would be underpinned by new legislation.
As she answered questions from reporters afterwards, Ms Cooper also detailed how Labour would fund the officers, saying: "The £360 million we have estimated from the savings is actually a very cautious estimate based on a lot of the work that's been done by procurement experts.
"There's a whole range of areas where they absolutely could be cutting down on waste and making those savings in practice. And as I said, the Police Foundation's estimate was in fact that the savings will be well over £600 million from these kinds of programmes."
The Shadow Home Secretary also said in her speech that Labour would "most urgently" introduce new mandatory requirements on vetting, standards, training, and misconduct across the police.
She said: "It means new leadership from a Labour Home Office to set out active strategies in vital areas – including on violence against women and girls, on fraud, on youth violence, on antisocial behaviour.
"And we will work not just with the police and the criminal justice system but with councils, community groups, businesses, the NHS, schools and the voluntary sector.
"And it means reforms right across the criminal justice system, so more criminals can be charged and punished while more victims get justice."
The Government said Labour's announcement was "over four months old" and accused the party of being "soft on crime".
Policing minister Chris Philp said: "Labour's announcement today is over four months old and further evidence of their soft on crime approach – their proposed investment is a tenth of what we are delivering.
"Meanwhile, this Conservative Government is recruiting the most police officers we have ever had, with 20,000 fully funded extra police officers being recruited by April this year, equipped with full powers of arrest."