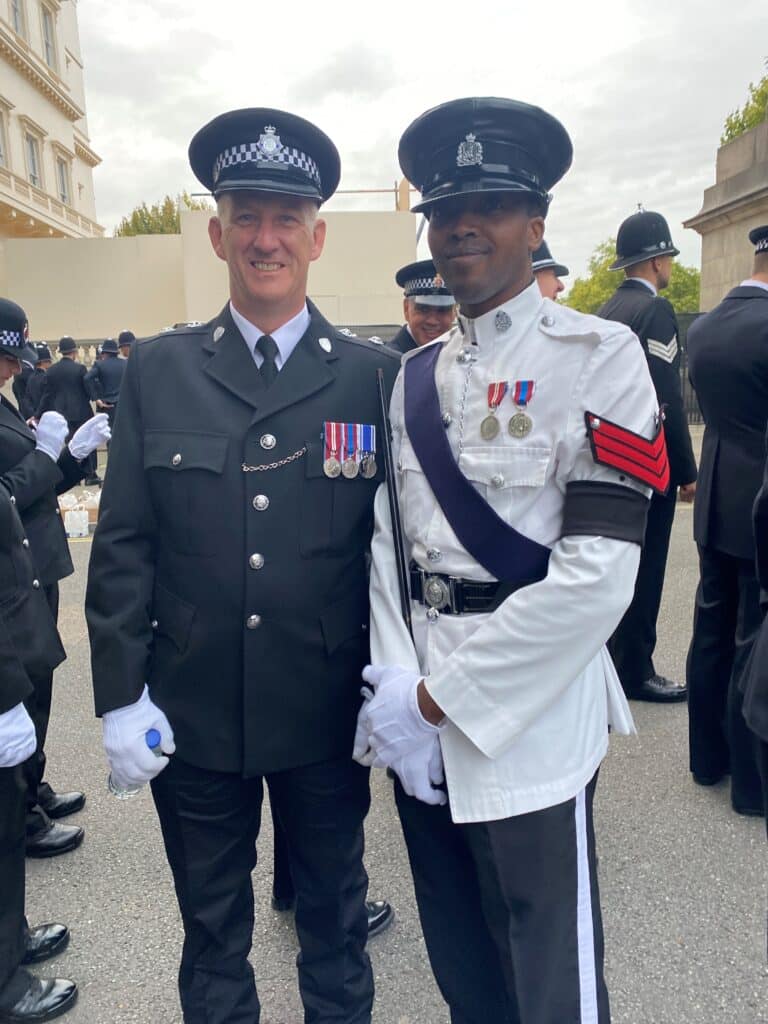 A Cambridgeshire Police Federation member who was chosen to represent the Force at the Queen's funeral says his late grandad – who was a serving Met officer – 'would have been so proud'.
 Inspector Matt Snow reveals he feels honoured to have been selected to work at the funeral of HM Queen Elizabeth II, calling his experience 'the proudest moment' of his career.
Matt was chosen to represent Cambridgeshire Constabulary ollowing the great involvement he has had over the past five years working on Operation London Bridge, the national plans made in preparation for when the Queen died.
 "I can't explain how proud I felt being picked from so many, to represent Cambridgeshire Constabulary," said the 51-year-old, "I was shocked when I received the email and, of course, I accepted the opportunity straight away.
 "It was, undoubtedly, the proudest moment of my career."
 Matt began his service in the Met Police following in the footsteps of his grandad, Gilbert Judge, who was a former officer based in London.
"My grandad worked at Gerrard Row in Central London, so he was regularly seeing members of the Royal family. I know he would've been so proud of me, I have no doubt about it," explained Matt, who admits returning to work in London took him back to the start of his career.
 "It really was something very special. I knew there would be officers representing forces from across the country but I didn't ever think there would be so many international officers. It wasn't until I saw so many of our colleagues from across the globe that I realised how huge being part of the event was."
Matt, who was one of the officers lining The Mall, said you could 'feel the emotion in the air', with the streets packed full of thousands of people who had travelled to the country's capital to pay their respects to the Queen. 
He said: "The Queen's funeral was probably the biggest operation the Met has ever done, if not the biggest operation this country has ever seen, and I was part of that. 
"It was a very surreal day. It didn't seem sombre at all, but more like a celebration of the Queen's life. At first, the streets were buzzing but as soon as the service was broadcast over the loudspeaker, the atmosphere changed and everybody fell silent, you could hear a pin drop. The crowds were so respectful."
Matt explains how he was picked up by a colleague at 2am from Peterborough on Monday morning, before travelling to Lambeth at 4.30am. Once briefed, he said that he and around 60 others walked down to The Mall, where they were cheered and clapped by the growing crowds.
"Never in my career have I walked down the street and been thanked so much," said Matt, who has been in the Force for 25 years. "And I don't think I'll ever feel emotions like that again."
Monday's funeral comes three years after Matt met the Queen, during a chance encounter when she visited Cambridgeshire.
"I was on duty at the time and I ended up spending 30 seconds with the Queen. Honestly, I can't remember what I said at all," recalls Matt.
"It was such a blur. I was policing at Queens' College and as Her Majesty arrived, I went to go outside before being ushered back inside, and suddenly, it was just me and her in a room. All I know is, I nodded and greeted her with 'your majesty' and replied to what she said. As for what she said, and I said, I have no idea."
 Matt, whose family were watching the service from home, said that his three children, wife and parents were very proud of him.
 "My children are 21, 19 and 17, and the youngest actually told his teacher about what I was doing. I don't think he's ever spoken to his teacher about me and my job before," Matt added.
"My wife and parents were proud beyond belief, they were all looking to see if they could spot me on the TV. In fact, I need to re-watch the coverage too, so I can relive the day."