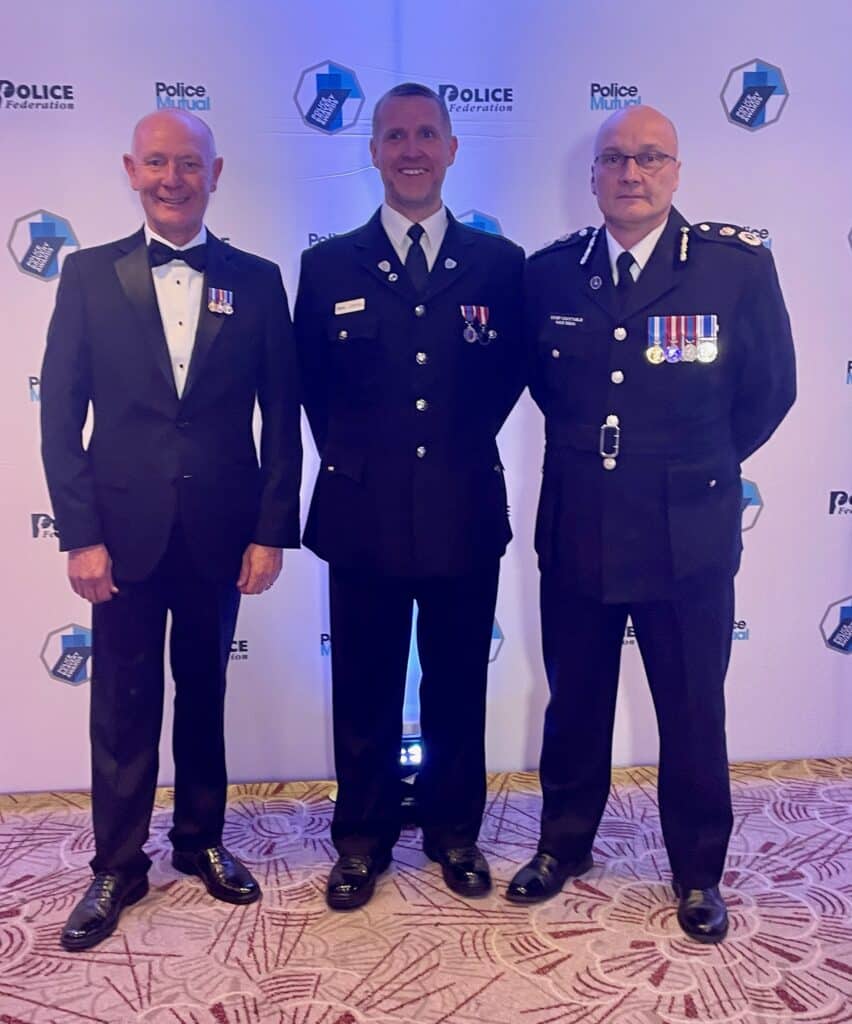 A brave Cambridgeshire PC who intervened in a knife fight while off-duty has been honoured at the  2022 national Police Bravery Awards.
PC Dave Byrne, who has 21 years' service, and his wife Sadie joined fellow nominees from across the country at a Downing Street reception on Thursday (14 July) which was followed by an awards ceremony in central London.
Cambridgeshire Police Chief Constable Nick Dean, Police and Crime Commissioner Darryl Preston and Police Federation branch chair Liz Groom were all in attendance.
The Downing Street event was hosted by Priti Patel who praised the officers for their "incredible courage".
Dave was cycling to work in February last year when he passed an alleyway and saw a physical altercation between two men. He heard a member of the public scream that one of the men had a knife and that the other was being stabbed.
Despite having no body armour, radio or other personal protective equipment, the officer bravely intervened and took the aggressor to the floor.<
The other man managed to get hold of the knife and tried to assault the one Dave was restraining. At this point, he managed to push him away to prevent further injuries to either man or the public who were watching or passing the scene.
Dave continued to detain the man and waited for on-duty colleagues to arrive. The injured man got medical attention and the brave officer carried on his journey, completing his late shift as usual that day.
The fight is thought to have been related to drug dealing but resulted in no further action as the injured man would not engage and the Crown Prosecution Service decided not to continue.
Liz said: "Dave was off-duty with no body armour or back-up and had no hesitation in putting himself in the middle of a very dangerous situation to prevent loss of life.
"His example shows the very best of policing and he is a credit to the Force and it was an honour to accompany him to the bravery awards."
Speaking at the Downing Street reception, Ms Patel told the nominees: "I am delighted to be able to celebrate with you, once again, the incredible courage of a remarkable group of police officers.
"Your work involves an extraordinary degree of sacrifice that should never be taken for granted. These awards play an important part in ensuring your deeds are recognised.
"I would like to thank the organisers of the 2022 awards, the Police Federation, and Police Mutual for their continued support for the event."
The officers also received warm praise and a message of thanks from Prime Minister Boris Johnson.
He said: "These acts of bravery, honoured here today by your colleagues and the public, are outstanding and in the finest traditions of policing. I salute each and every one of the fantastic nominees at the awards. You are truly the best of the very best.
"It is absolutely right and proper that we honour and celebrate the work of our brave men and women in uniform who work day in and day out to protect the public.
"The progress we are making towards recruiting 20,000 more officers gives me full confidence that together we will make our streets safer. From the bottom of my heart, thank you."
Speaking at the awards ceremony, Police Federation national chair Steve Hartshorn said: "Tonight, we heard extraordinary stories of bravery, selflessness and acts of courage that are not just part of the job.
"The bravery shown by these nominees is truly outstanding. From putting their own lives at risk to save others, facing violent attackers and terrifying weapons, to rescuing people from perilous situations in fast flowing water or stranded hundreds of feet in the air, they have faced danger head on."
The annual bravery awards are organised by the Police Federation and sponsored by Police Mutual.
This year's overall winner was Lincolnshire Police's PC Steven Denniss who was stabbed as he tackled a double murder suspect he has spotted while off duty and out walking his dogs.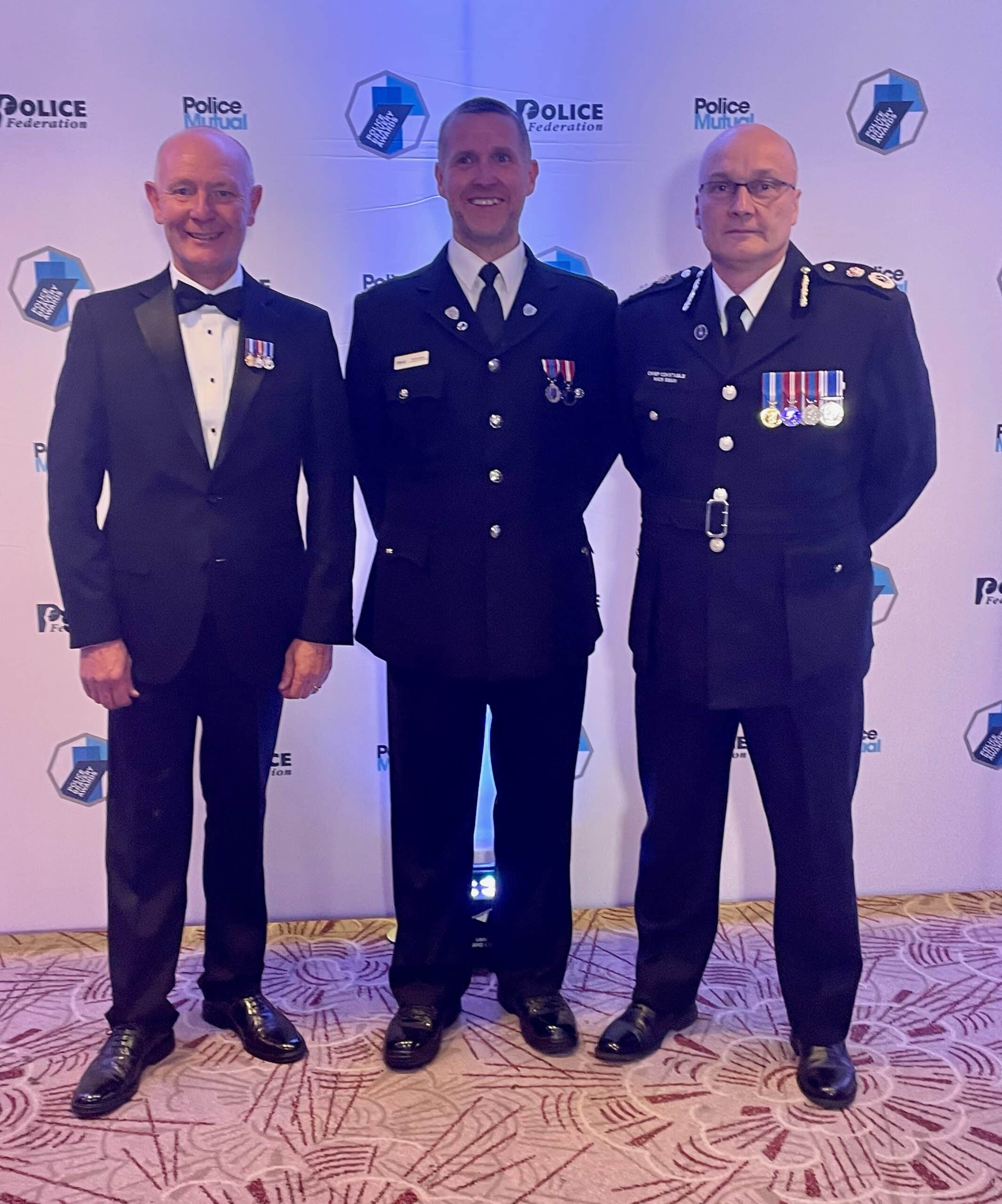 PC Dave Bryne with Chief Constable Nick Dean (right) and Police and Crime Commissioner Darryl Preston.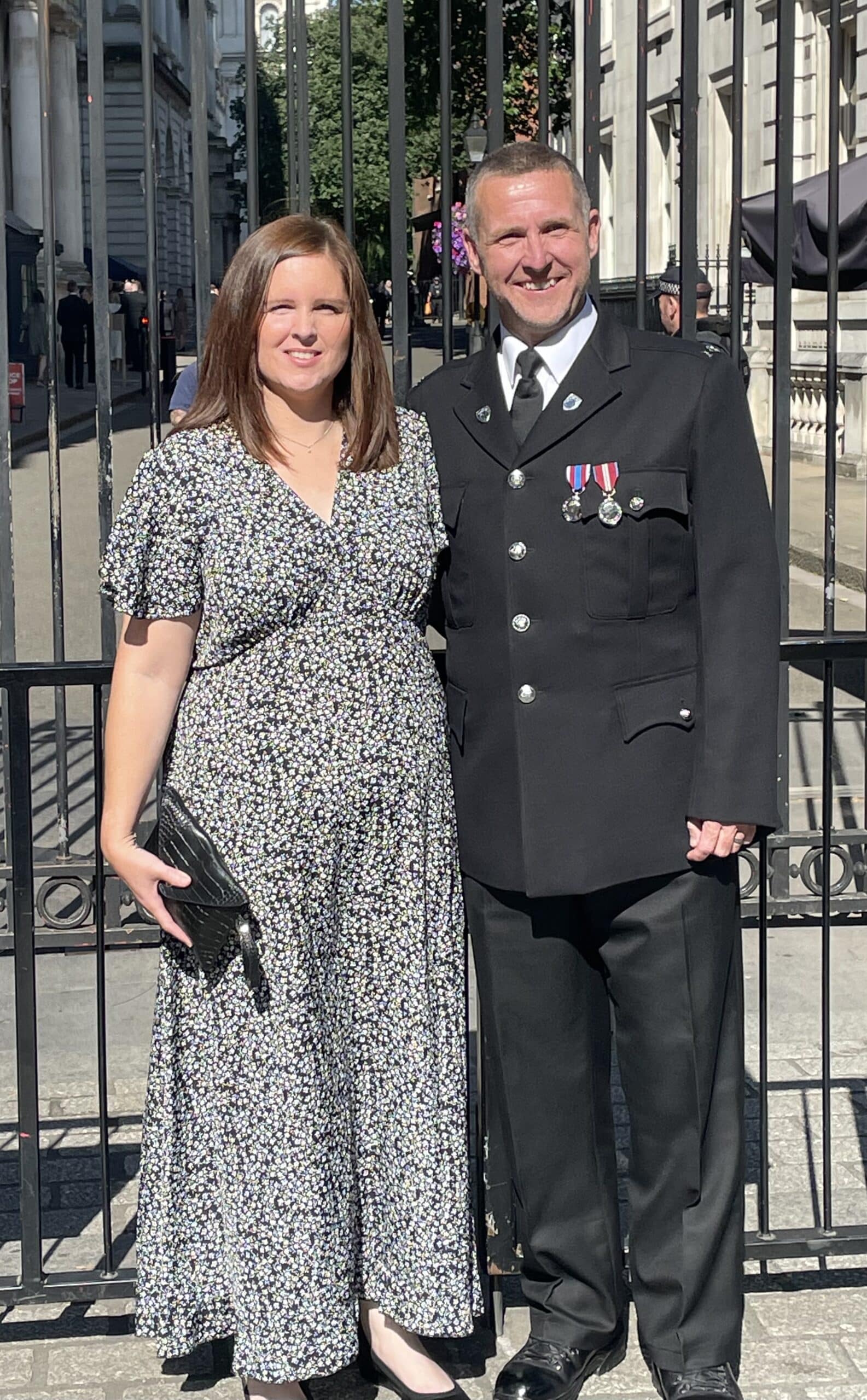 PC Dave Byrne with his wife Sadie outside the gates on No 10 before the Downing Street reception.