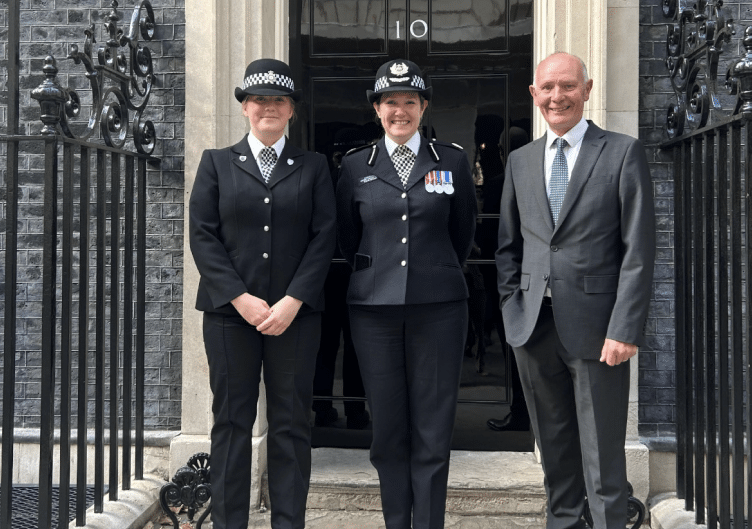 A Cambridgeshire Police Federation member has spoken about her experience of representing the Force at reception to mark the end of the Government's recruitment programme.
Grace Bremner, who was one of Cambridgeshire's first police constable degree apprentices, said she was honoured to attend the event hosted by Home Secretary Suella Braverman at 10 Downing Street.
She was joined at the reception by Assistant Chief Constable Vicki Evans and Darryl Preston, Cambridgeshire's Police and Crime Commissioner.
Grace said: "It was an honour to represent the Force and go down to 10 Downing Street and be part of it.
"I didn't realise how big it was inside because you only see it from the outside.
"We spoke to other student officers and chief constables. It was interesting to hear about their experiences, and some had been on the same pathway as me.
"Some of them had just finished their third year, so it was interesting to see how they'd found it and gave us ideas for what we can do in our Force.
"We met with the Home Secretary, who talked about policing and the recruitment programme.
"It was a great experience and a really positive event to go to."
Grace joined Cambridgeshire Police in October 2021, four months after completing her A Levels.
"I have a few family members who are in the police force, which gave me an insight into what policing was like," she said.
"I've always been the type of person who wanted to help people, and in a way that you're not doing the same thing all the time.
"Every day as a police officer is different. Some days can be frustrating and difficult and then there are the days when you feel like you've achieved something and done something really positive for someone."