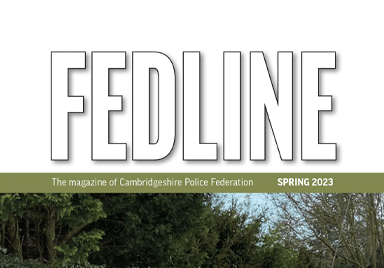 Keep up-to-date with the news and views from Cambridgeshire Police Federation in the spring edition of the branch's magazine Fedline.
Branch chair Liz Groom adds her voice to the growing chorus demanding fair pay for police officers.
Liz makes the calls as a new report reveals officers' wages have fallen 17 per cent in the past two decades, and the results of the branch's pay and morale survey highlight just how much it's having an impact on the spirit in the Force and among individual officers.
Liz pays tribute to Special Constables and the contribution they make to the service, while national deputy chair Tiff Lynch makes the case for a return to community policing.
Cambridgeshire Police Chief Inspector Keren Pope shares her inspiring story of juggling motherhood, climbing the career ladder and overcoming cancer.
Read how the Home Office plans to reduce the time officers spend on mental health cases and vulnerable people.
There's a look at a new guide to support officers planning to take maternity leave to get the correct pay and entitlements and an update on plans for a Police Covenant.
It's all in the Spring edition of Fedline, which is available now.
Printed copies will be circulated around the Force or you can read it online now.