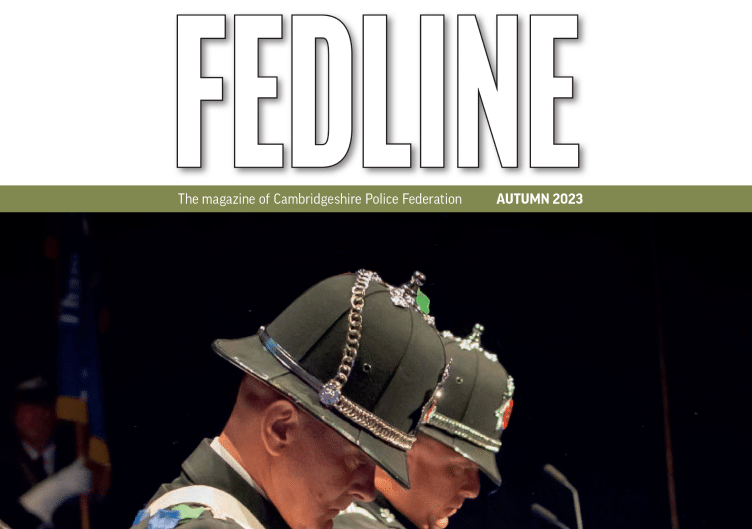 The autumn edition of Fedline, the magazine of Cambridgeshire Police Federation, is full of news and views from your branch and is available to download now.
Chair Liz Groom reflects on the National Police Memorial Day when the policing family came together in Cardiff to remember officers who have died in the line of duty.
And she looks back on the Care of Police Survivors (COPS) annual Service of Remembrance.
Fedline brings a round-up of the annual Police Federation of England and Wales (PFEW) conference.
Liz highlighted the lack of time and facilities available to officers to debrief after a traumatic incident during a session on police wellbeing the case for ring-fenced funding for welfare
There's a focus on conduct as we heard how officers are choosing to be assaulted rather than use force due to fears over disciplinary hearings.
Read how more than 230 non-disclosure agreements have been used by forces to silence victims of sexism and misogyny.
There is reaction to the keynote addresses by PFEW chair Steve Hartshorn and the Home Secretary, Suella Braverman.
In his speech to conference the Federation's chief executive officer Mukund Krishna apologised for the organisation's failure to challenge the Government's change in pensions policy.
National secretary Calum Macleod told conference that he would encourage his younger self to pursue an alternative career to policing as he discussed pay and conditions, and there was an update on the Federation's financial outlook from treasurer Simon Kempton.
Also under the Fedline spotlight are conference discussions on mutual aid allowances, retirement, senior leaders, and the Federation's #SimplifyDG6 campaign.
Plus, you will find a round-up of the panel debate with PFEW's senior leadership, including questions from members on firearm officer protections, media criticism and chief executive pay.
It's all in the autumn edition of Fedline, which is available to download now.