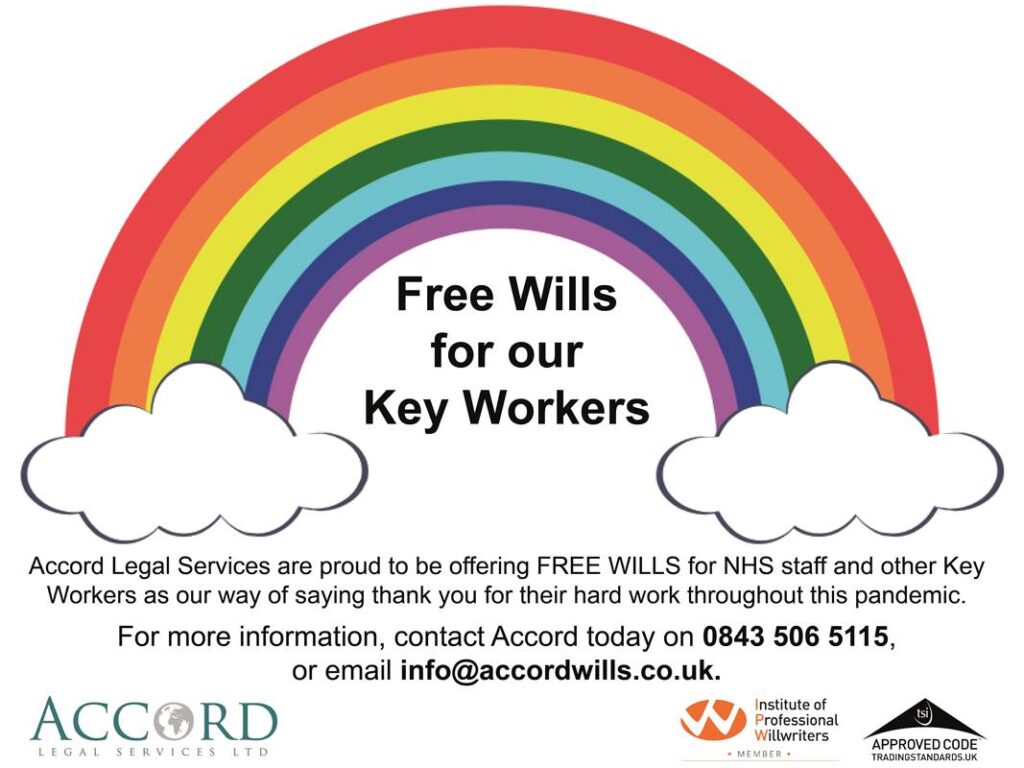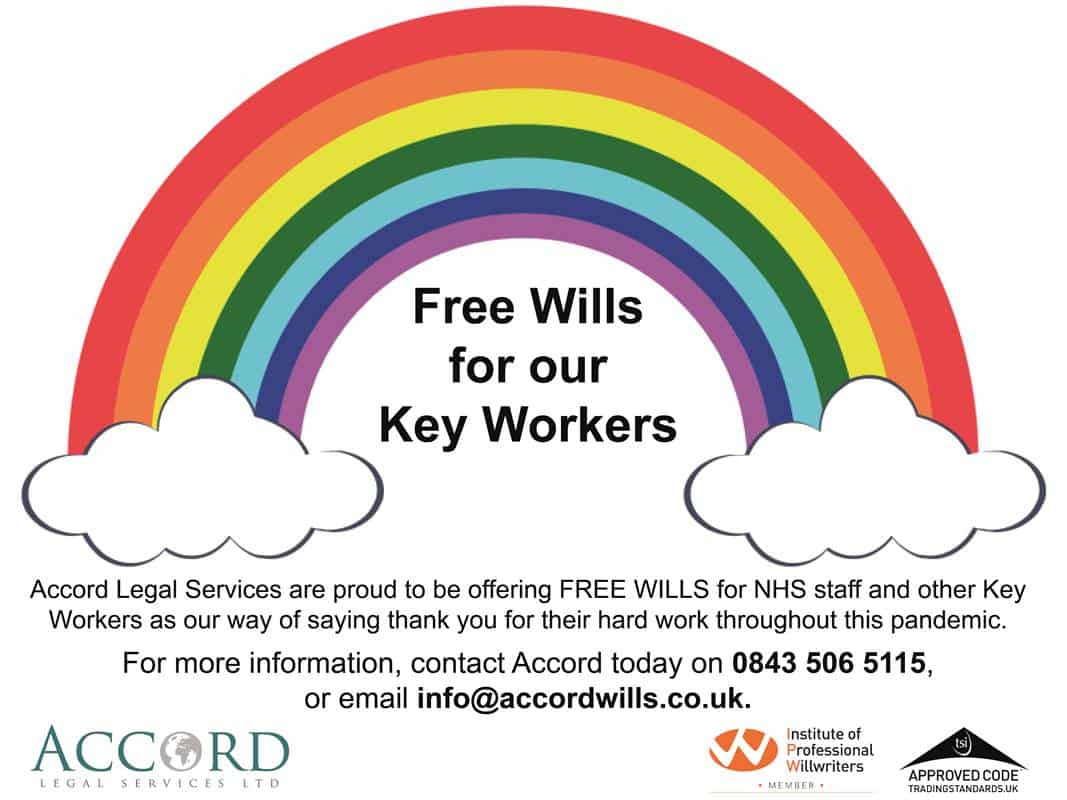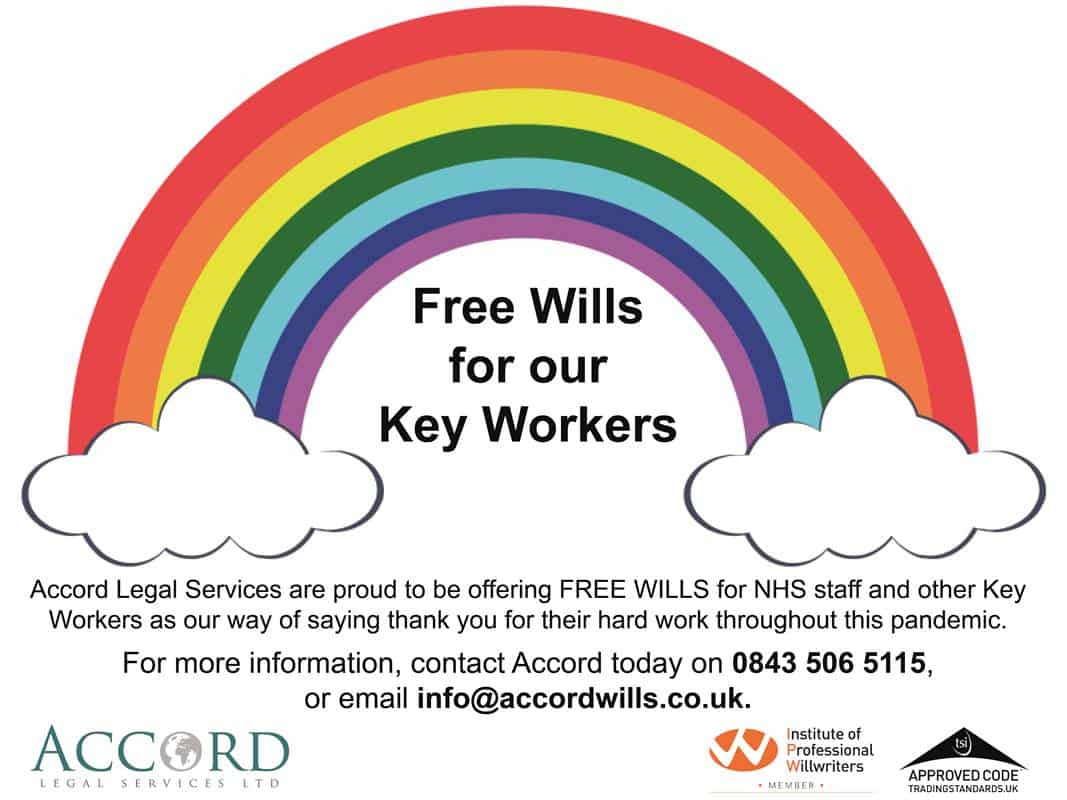 It has been a few months since I last emailed you regarding our free will offer for key workers and I just wanted to let you know that we are still pushing forward and offering this service throughout the COVID-19 pandemic.  If you would like your staff to benefit from this offer all we ask is that you share this email or pass on the contact info below to your staff via your normal communication channels. 
Since my last email regarding our Free Wills initiative everyone at Accord has been incredibly busy helping key workers all over the United Kingdom to make their Will.  The uptake on the offer has been incredible; to date, we have had over 60,000 enquiries from a wide range of professions including NHS Staff, Police, Fire Service, Pharmacists, Distribution, Logistics, HMRC, Teachers, Utilities staff and Transportation Workers to name just a few.  We are incredibly proud of the work that we have done and the number of people that we have helped to get their affairs in order. So far, in just a few short months, this is in the thousands.  With social distancing easing slightly and many workplaces getting back to some kind of normality, we are determined to push on and will continue offering this free service to all Key workers.
The feedback has been incredible and is what drives us at Accord to keep going with this offer:
Thomas Roberts (prefers Tom R.)
"Accord Legal Services have been exceptionally kind in offering reassurance during these unprecedented times through their free will service offered to Key Workers. Soon to be starting my own family, their professionalism and expertise has gave me confidence that my affairs would be in order should the unexpected happen"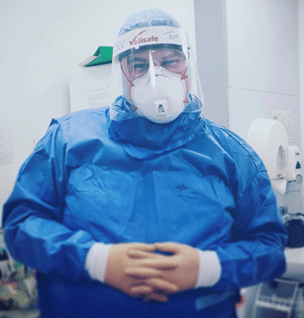 Charlotte Davy (prefers Charlotte D.)
"Having meant to do a will for a number of years, I saw Accord Legal Services offer of a free will to all key workers on social media. From point of contact via email, the team provided me with swift response detailing key information. The appointment was conducted via phone at a time to suit me, and, the team member who conducted my appointment was knowledgeable, reassuring and polite throughout. I felt safe knowing that both my personal details and details of my wishes were in good hands. I am so grateful and thankful to the team for helping me organise my will – it's made a very difficult time and topic much easier"
Recently on the news there is talk of a second wave of COVID-19 cases and sadly more deaths. With this announcement we are seeing a trend and another surge in the volume of enquiries, showing that there is still a huge demand for this free offer.  Speaking to key workers on a daily basis we are hearing stories such as key workers with partners that are shielding that are genuinely terrified of something happening to them if they contract COVID-19 and bring it back to the family home.  People are desperate to have their affairs put in order just in case the worst were to happen.
Every week we are proud to be partnering with more and more NHS trusts, Ambulance services, Prison services and other key worker industries.  A list of these can be found on our partners page here:
https://www.accordlegalservices.co.uk/work/partners/
I think I can speak for everybody in this country when I say we are immensely grateful for the vital work our key workers are doing to keep our country going at this difficult time. The Free Wills for Key Workers Initiative is our way of giving something back.
How does it work?
This offer is open to all Key Workers across England, Wales and Scotland. Once you confirm that you would like to be included in the Initiative, your area is assigned a local estate planning consultant. This person will be a local point of contact, and will be responsible for taking Will instructions from your staff.
Staff interested in an appointment simply need to email info@accordwills.co.uk stating they are interested in a Free Will and leaving their name and contact number. A member of our booking team will then be in touch to arrange an appointment.
The appointments are conducted by telephone, Skype, Zoom or any other online platform your staff feel most comfortable with. The appointments usually take around half an hour on average. Once instructions have been taken, they are sent to our legal team, comprised of lawyers and STEP qualified staff that will draft the Will and return it by post directly to the client. All of our Wills are created on an advised basis – every consultation is bespoke and every Will drafted accordingly, unlike online templates, ensuring the best possible service.
Our consultants can also provide advice on a number of other estate planning services, including tax, Lasting Powers of Attorney, trust services and probate should anyone require further specialist advice.
What sets Accord apart?
Accord are offering this unique service that is truly free as a gesture of good will and as a genuine thank you to all key workers keeping our country running throughout these uncertain times. We feel that it is the least that we can do in the current climate- neither you or your staff will pay a penny for their Will. Unlike other providers offering similar services, Accord do not stipulate that we need to act as executors within the Will, nor do we charge any hidden fees. It is genuinely FREE. We are wholly committed to ensuring all key workers have their affairs in order. For Accord, this is about giving back, not making a profit.
We are one of the UK's leading providers of estate planning services, and are members of the Institute of Professional Will Writers. We are led by a team of STEP (Society of Trust and Estate Practitioners) qualified estate planning specialists. We work with household names such as Charities, Building Societies and others providing reassurance of our capabilities. As such, you can feel secure and comfortable in recommending Accord's services to your staff.
We hope you will see the value in our offer and will consider promoting this to your staff.