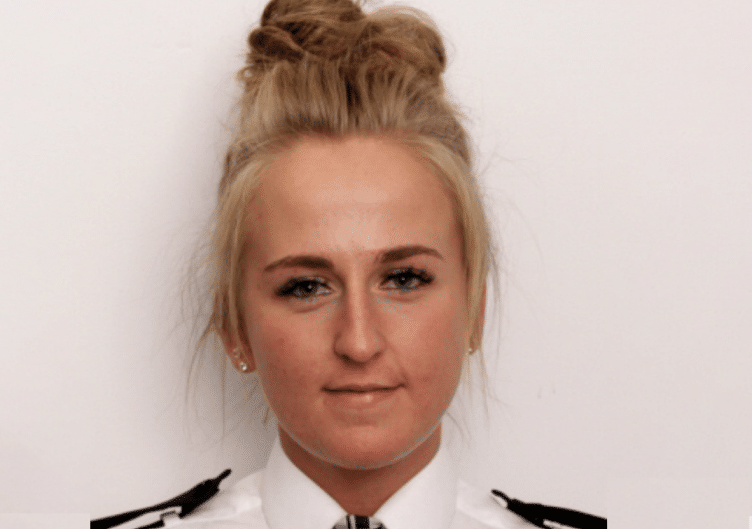 A Cambridgeshire Police Federation member has told how she welcomes newly designed body armour with open arms after the Police Federation of England and Wales (PFEW) confirmed gender-specific and more comfortable protective clothing would now be available to forces.
Police constable April Cooper (pictured), who has been in the job for five years, says she is 'so glad something is finally being done' about the body armour, calling the current 'heavy' protective clothing 'very restrictive'.
"The design of the body armour is a major issue. It absolutely destroys our bodies. I've had to see a chiropractor as a result of the damage caused – and I know I'm not the only one. It's causing us serious, long-term health issues," said 30-year-old April.
"It's very restrictive and very front-heavy – so if you're chasing an offender, for example, you'll find the front lifts up, into your face. It's not practical and can actually restrict your breathing – in the summer months especially, it's an absolute nightmare.
"And the weight of it, it's like you're constantly carrying a small child around. Having newly designed body armour will not only improve our physical health but I think it will help our overall wellbeing too."
April's comments come after PFEW wellbeing lead Belinda Goodwin urged forces to invest in new, groundbreaking, gender-specific body armour, designed with increased protection and to enhance comfort.
"The pressure caused by the body armour led to painful rashes and my breasts becoming numb. I still have scars now. I actually had to use nappy-rash cream to help with the pain, and I'm sure I'm not the only one," says Belinda.
Having spent almost five years campaigning for more comfortable body armour, Belinda has shared her own experiences on the front line, as she celebrates fresh body armour, which has both male and female variations, being made available.
The once heavy and uncomfortable kit now has a lighter and more flexible alternative, with additional layers of extra protection available.
"This is a very exciting time and I'm so proud to have been involved in this process. We've finally bought body armour into the 21st century and, as a female, I am particularly excited about this. I know this newly designed body armour will make such a difference to so many of our members, both male and female," said Belinda, who joined the Force back in 2008.
"Now, we just need forces to invest. They need to invest for both the mental and physical benefit of their members."
The third-generation body armour moulds to the body shape and is lighter in weight, without compromising on safety.
Belinda has recalled her own experience, which led to her needing an operation on her breast after she developed a fistula – an infected and inflamed lump, that in some cases, requires draining.
"Unfortunately, I had to undergo an operation to remove the fistula. I was then redeployed to a job which didn't require me to wear body armour. During that time, my breasts were fine. Then, when I returned to a role in 2008, which involved me wearing body armour, I required yet another operation," explained Belinda.
"I took my body armour to the doctor and he said that while he couldn't say for sure it had caused the infection, it wouldn't be doing me any good at all.
"He actually said that if I got any more infections and needed any more operations on my breasts, I would have to have had a mastectomy.
"That prompted me to take on roles which didn't require me to wear body armour 24/7 because applying that much pressure to my body was a genuine concern of mine."
Belinda is also wanting to raise awareness of good practices surrounding body armour, including the need for regular breaks throughout the day.
"Because of the ongoing pressures surrounding our officers and this 'need' to be ready to head out on a job immediately, some of them don't take their body armour off," continued Belinda.
"But it doesn't work like that. Our bodies are not designed to wear something that heavy for such long periods of time. Education is key."